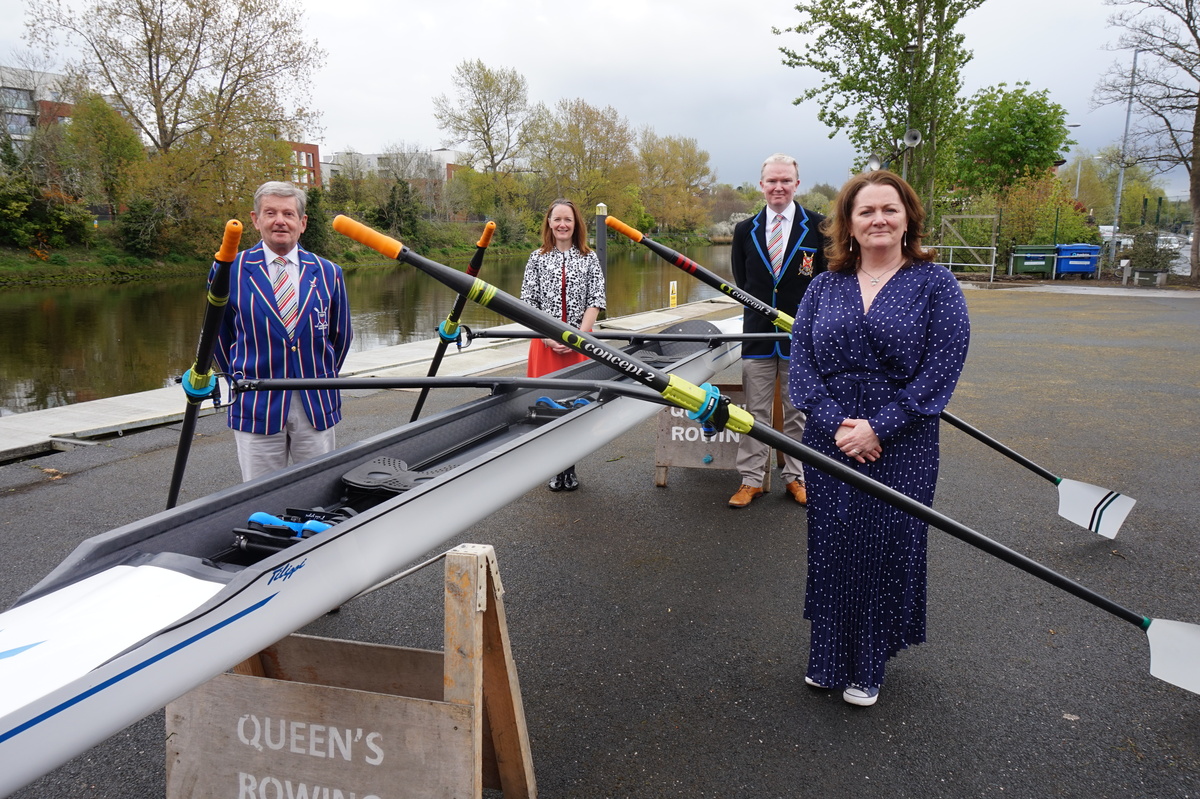 Rowing at Queen's University has received £25,000 from the Queen's University of Belfast Foundation for future development, thanks to support from former rowers, alumni and supporters of the various rowing clubs.

A sum of £25,000 for Rowing at Queen's will fund vital equipment for teams, coaching and support investment, bursaries and major events.
Many of the donors who made the donation possible are members of the Lady Victoria Boat Club, which works closely with the Queen's Foundation to encourage support and donations for rowing at Queen's. Lady Victoria members are also heavily involved in coaching novice rowers and encouraging widened participation in the sport, which contributes to the success of the sport at the University.
Nathalie Trott, Director of Development said: "As a former rower myself, I am delighted that the Foundation has been able to facilitate this donation. I am particularly pleased to have been able to work with the Lady Victoria Boat Club to provide support for rowers from novices and those new to the sport, right through to those students who have the ability to, or indeed may be, representing the University at national or international level."
It is expected that additional donations of £25,000 will be made to the Rowing Academy over the next three years, with continued generosity of our rowing alumni and supporters, amounting to a total of £100,000. These funds are vital for the development of the club, at all levels.
Commenting on the donation, Ricky Caruth, President of Lady Victoria Boat Club said: "Our rowing alumni have always been exceptionally generous as well as highly committed to the development of rowing at Queen's, for all levels and abilities. I look forward to the continued success of the Clubs and to seeing Queen's rowers on the podium at Henley Royal Regatta, the Irish Championships and other international events."
Donations will be invested in coaching and club development, to ensure that Queen's rowing is kept at the forefront of the sport. It will also enable the Rowing Academy to invest in equipment to build for future success, such as the rowing fleet, vehicles and launches. A percentage of the funds will also be used for individual athlete support and provide bursaries to support champion rowers who compete at national and international competitions. Funds from the Foundation also ensure the continuity and progress of major events such as the annual Boat Race at Queen's and annual Summer Camps to introduce new rowers to the sport at Queen's.
Liz McLaughlin, Head of Queen's Sport, said: "Most importantly, this funding will enable us to invest in an entire range of Club activities, from travel and accommodation at training camps and major events to the annual Boat Race and Rowing Summer Camps as well as providing an annual grant for the QUB Boat Clubs. I would like to thank our many donors whose support is vital in maintaining this flourishing sport."
If you would like to support the next generations of Queen's rowers visit our academies page or contact Paddy Gilmore, Queen's Development and Engagement Manager, Queen's Sport.

For general enquiries about this story, or to submit graduate news items, please contact Gerry Power, Communications Officer, Development and Alumni Relations Office, Queen's University Belfast or telephone: +44 (0)28 9097 5321.
Originally published at Queen's University Belfast.